Canada Federal Skilled Worker (Professional) Immigration
Federal Skilled Worker applications are assessed based on an applicant's ability to become economically established upon immigration to Canada.
In order to qualify for a Canada Immigration (Permanent Resident) Visa, Canadian Federal Skilled Worker (Professional) applicants must:
Have at least one year of continuous full-time or equivalent paid work experience in the past 10 years in one of the 24 eligible occupations; or
Qualify for Arranged Employment with a Labour Market Opinion and a full-time, permanent job offer from a Canadian employer; or
Have completed a PhD in Canada, or have completed two years of study in Canada towards a PhD, in both cases at a recognized institution; and
Pass a minimum threshold of language ability for one of Canada's two official languages (English/French)
In addition, Federal Skilled Worker (Professional) applicants must attain at least 67 points based on Citizenship and Immigration Canada's (CIC) immigration selection factors.
The selection factors are summarized as follows: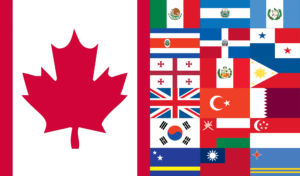 In addition to fulfilling eligibility and points requirements, applicants must show that they have 
sufficient settlement funds
 to support themselves and their dependants after arrival in Canada. Applicants and their dependants must also undergo 
medical examinations
 and 
security clearances
 as part of the Canadian immigration application process.
Processing Times
Federal Skilled Worker (Professional) 
Processing Times
 vary from one Canadian Immigration Visa office to another.
Processing Fees
Federal Skilled Worker (Professional) Government 
Processing Fees
 vary with exchange rates.
Federal Skilled Worker Application Process
Learn more about how the process works, from the very start to landing as a Permanent Resident.Applicants intending to reside in Montreal or another city in the Province of Quebec are subject to the 
Quebec selection criteria
.For more information on the Federal Skilled Worker Program, see our 
Federal Skilled Workers FAQ
.
 Contact Us for more information about the Federal Skilled Worker Program or take a FREE Eligibility Assessment